Here at The Family Fun Center, our team is all about taking care of the wonderful families in our community! We are beyond grateful for your continued support during these trying times and are excited to have re-opened with additional safety and sanitation procedures in place. Family Fun Center has always been dedicated to providing a safe environment for Lakeland families to enjoy. As we all adjust to new standards for interacting with others, we ask that you join us in practicing healthy habits for the safety of yourselves and other visitors. Read on to learn about our guidelines for safe, clean fun!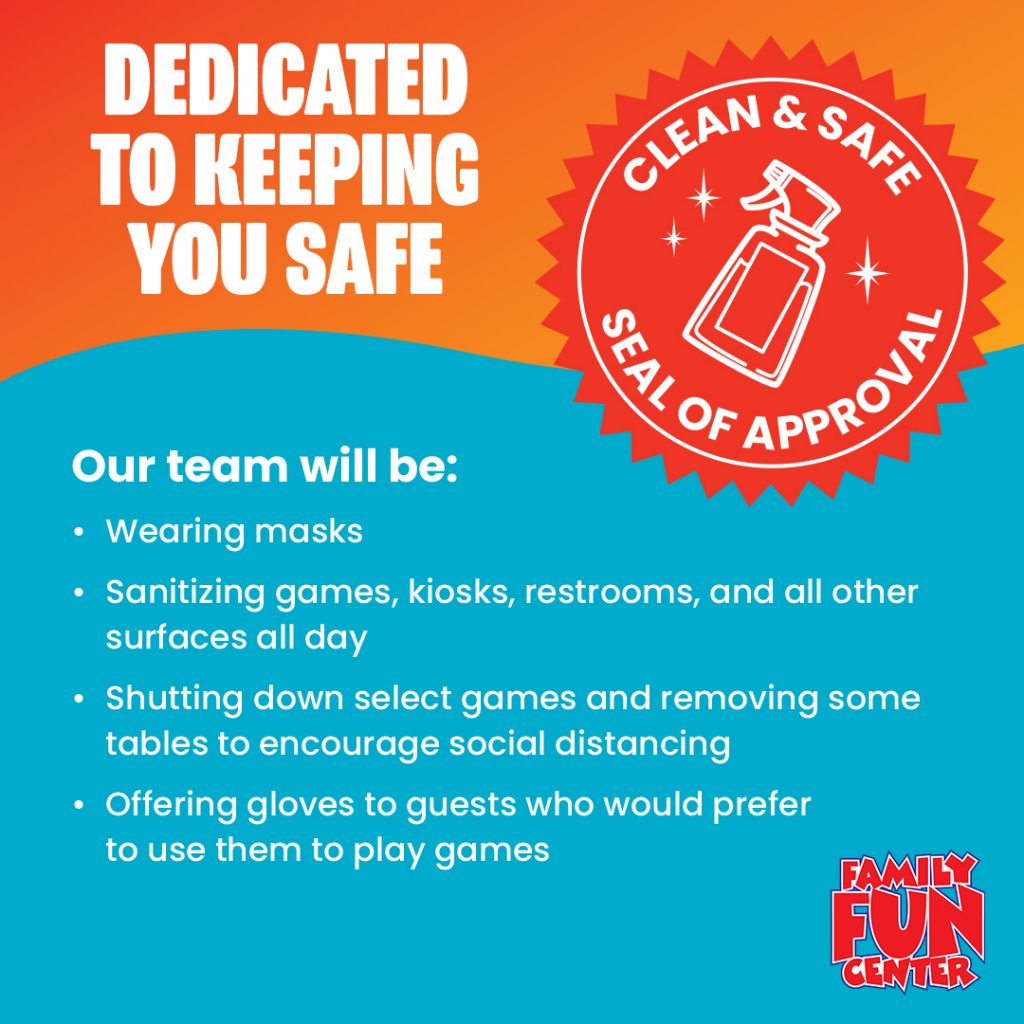 Wash your hands
Be sure to wash your hands often with soap and water for at least 20 seconds. If you are able, use hand sanitizer in between playing games! Try to avoid touching your face and if you do, make sure your hands are clean. Our employees will be washing their hands regularly and sanitizing games, kiosks, restrooms and all other surfaces throughout the day.
Keep your distance
Maintain a distance of at least 6 feet from other individuals or groups. Multi-player games should only be played with those in your immediate party. Our staff will be shutting down select games and removing a few tables to encourage social distancing.
Cover your nose and mouth
Family Fun Center staff will be wearing masks while working to keep the facility clean. Masks are not required for guests but you are more than welcome to wear them. If you do not wear a mask, remain aware and be respectful of others around you.
Avoid unnecessary touching
It can be hard, but try to avoid unnecessary touching of surfaces such as countertops, tables and games when not in use. Family Fun Center is offering gloves to guests who prefer to use them when playing games.
Stay home if you are sick
If you are not feeling well, we ask you to not participate and encourage your family members to also not participate until you are feeling better. Any Family Fun Center staff will be asked to stay home if they are not feeling well.
By following these guidelines and practicing healthy habits, we can all help to keep each other safe. Our closing hours have been adjusted to allow for extra nightly cleaning and sanitation and Funtasia will remain closed until further notice. Be sure to check our website and social media pages for any updates to our hours and operations. We are proud to be a part of this community and remain dedicated to keeping you healthy and providing a safe environment for family fun!