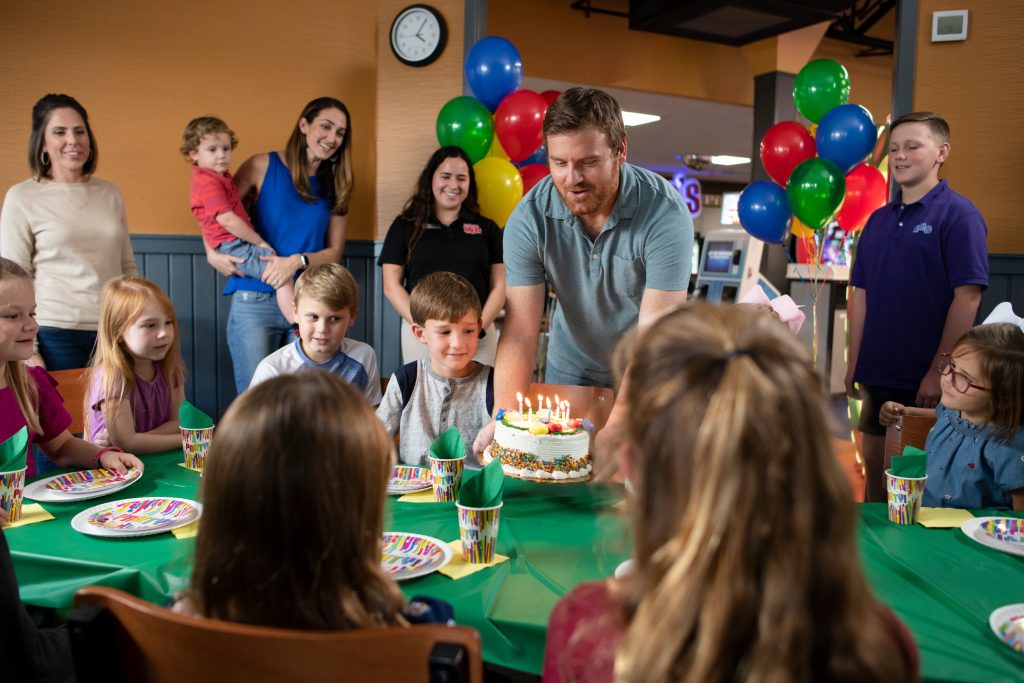 Birthdays are special occasions that are meant for celebration, laughter, and memorable moments with friends and family. However, planning a birthday party can often be a source of stress for parents. From deciding on a theme to organizing activities and handling the logistics, the pressure to create a memorable experience can quickly lead to an overwhelming feeling. But what if we told you there's a better way to celebrate? At Family Fun Center, we have the perfect solution to beat birthday party burnout. Skip hosting, avoid the outdoor heat, and book with us instead!
Planning a birthday party can be overwhelming, especially when you juggle multiple responsibilities. By booking your birthday party with us you can say goodbye to the stress of party planning. We will provide you with online invitations and RSVPs so your guests know what to expect for the day. We even provide Thank You Notes to send after your party, making the entire process hassle-free.
We also offer 3 party packages that cater to different preferences and budgets. Our Funtastic Party Package includes one choice of our attractions such as Mini golf, Laser Maze, Funtasia Play Space, and Laser Tag. It also includes a dedicated party pro, reserved area, pizza, unlimited soda during room time, and Credit Fun Cards. This package is perfect for those who want to enjoy a little bit of everything that we have to offer.
If you're looking to elevate the celebration, our Deluxe Party Package includes everything from the Funatastic Party Package, along with additional FUN to the attractions and extended time in the party area.
For the ultimate birthday extravaganza, our Ultimate Party Package has got you covered. In addition to all the perks of the Deluxe Party Package, your child and their guests will enjoy delicious ice cream, a gift bag, and more credits for more fun! This package guarantees an unforgettable VIP experience.
We know hosting a summer birthday party can be a challenge when temperatures soar and the heat becomes unbearable. You can beat the scorching heat and ensure a comfortable environment for everyone. Our air-conditioned area provides a cool space where kids and adults can enjoy themselves without worrying about the weather conditions outside.
Birthday parties are all about the kids, but we can't forget about the parents! We have a wide range of games available for all age groups. Whether it's laser tag, an assortment of arcade games, or mini golf there are plenty of options that will keep the day filled with non-stop fun and laughter.
Don't let the birthday burnout dampen your spirits any longer. If you want to make the most of your celebration make sure you are a part of our exclusive Birthday Club! Sign up now to receive a fantastic gift of a free game of min golf or laser tag, along with other special birthday discounts! This offer is guaranteed to make your special day even more remarkable.
For more info about planning your birthday party at Family Fun Center visit our Party FAQs. By hosting your birthday celebration at Family Fun Center, you can skip all the party planning stress and enjoy the occasion! Book with us today and create unforgettable memories that will be cherished for years to come!