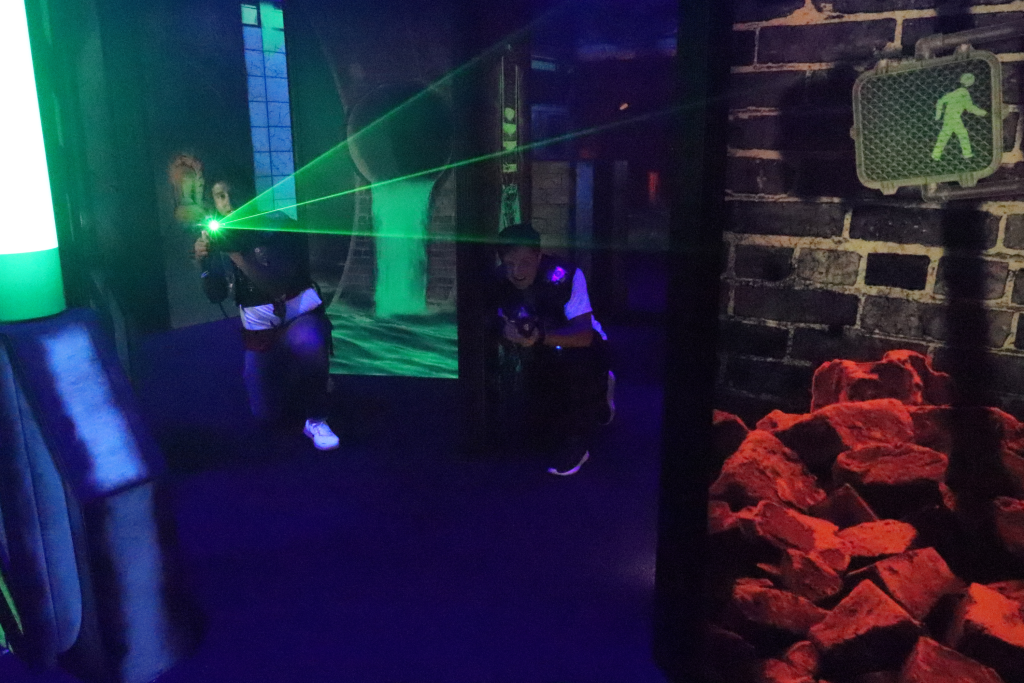 Are you ready to become a laser tag champion? Look no further than the Family Fun Center of Lakeland! Our indoor family fun center is the perfect destination for all ages to have fun and test their skills in laser tag.
Our laser tag arena offers over 2200 square feet of heart-thumping fun as you navigate the subway and sewer tunnels to avoid detection. You can compete one on one or team up for capture-the-flag-style play. Grab up to 20 of your friends and give it a try!
Becoming a laser tag champion requires skill, strategy, and a little bit of luck. Here are some tips to help you succeed:
Dress the Part:
Be mindful of your outfit before heading out to become a laser tag champion – opt for sneakers and dark, comfortable clothing.
Make sure to wear clothing that won't glow. Skip the jewelry or any accessories that could be reflective, get lost, or make noise to help you avoid discovery. Comfortable shoes are key here. You want to be able to move around quickly, quietly, and securely.
Like most laser tag arenas, the lighting is dim and dark with luminesce black lighting cast over glow-in-the-dark painted walls. This will allow you to blend into the arena and avoid being an easy target for your opponents.
Know the Rules:
Before you start your laser tag game, make sure you understand the rules of the game. This will help you to avoid any confusion during the game and allow you to focus on your strategy.
A Family Fun Center crew member will set the game for you and go over everything you need to know before you enter the arena, so make sure you listen up! We offer different game objectives from one-on-one matches to three-team assignments, so know your mission!
If you're a smaller group, you might play against people you don't know so be aware of who's on your team to avoid accidental hits to your team members. And NEVER cover your vest sensor. It's the number one no, no. Play fair and no cheating!
Pick your Team Wisely
Team Captain? The right team will lead you to victory. Consider the size and compatibility of your group and the skill level of each player and their strengths.
Depending on the size, it may be better to have smaller teams for more intense and fast-paced gameplay or larger teams for more strategic and coordinated play. Try to pick a team with players who get along well and work together effectively. This will help ensure good communication and coordination during the game.
If you have a mix of experienced and inexperienced players, split them up evenly between teams to make the game fairer and more challenging for all players. The more versatile and adaptable your team is, the better. Ultimately, the most important thing is to have fun and enjoy the game!
Check your Equipment
Before you go barreling into the underground subway and sewer tunnels at the Family Fun Center, get to know our equipment. Check your vest and adjust it to fit as best as you can. Check your weapon and make sure it's firing correctly. Make sure your laser tag equipment is working properly before the game starts. You don't want to be stuck with malfunctioning equipment during the game.
Strategize
The best plan is a simple plan, annihilate the enemy!
The key to winning at laser tag is to keep shooting and don't stop moving! You want to make it harder for your opponents to hit you while giving you a better chance of hitting them. Playing to your strengths can also give you an advantage. If you're a fast runner, use your speed to your advantage. If you have good aim, focus on accuracy.
Be proactive instead of reactive. Take in as much of the arena as you can right when you get in, knowing your surroundings is half the battle. We suggest playing more than one round to really get the lay of the land. Stay quiet, out of sight, and protect each other!
At the Family Fun Center of Lakeland, we offer a variety of kids activities, including laser tag, mini golf, an indoor playground, and an arcade that's perfect for any family fun excursion. So why not plan a family outing to the Family Fun Center and put these tips to the test?
Plan your visit today. We can't wait to see you become the next laser tag champion!