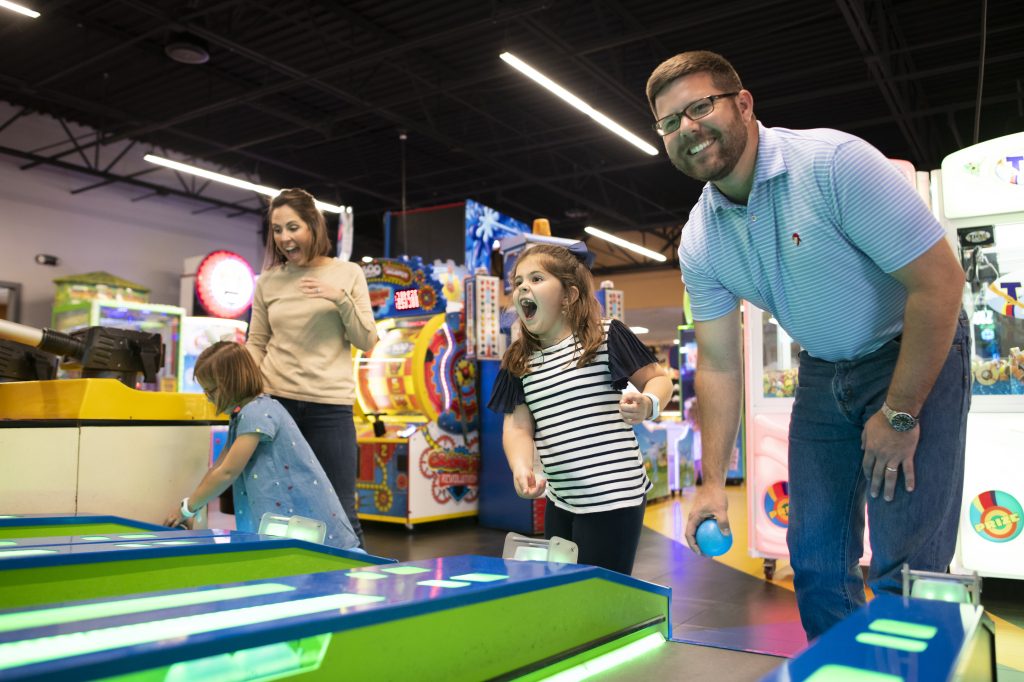 Father's Day is just around the corner, and it's time to show the dads of Lakeland how much they mean to us. This year, instead of the usual ties and tools, why not celebrate Father's Day in a fun and memorable way? At the Family Fun Center in Lakeland, we have everything you need to make this Father's Day truly special for the dads in your life. From thrilling attractions to delicious dining options, let's explore how you can create unforgettable moments and celebrate the dads of Lakeland in style.
Heart-Pounding Adventure:
For the adventurous dads, treat them to an action-packed day at our Family Fun Center. Take a tour through our Funtasia Play Area, challenge each other in the Vault Assault, or compete for the high score in our arcade games. The thrill and excitement will create lasting memories that Dad and the whole family will appreciate.
Mini Golf Fun:
Father's Day is the perfect occasion to enjoy a friendly round of mini-golf. Our beautifully landscaped 18-hole miniature golf course offers a pleasant experience for the entire family. Dad can showcase his skills and enjoy some quality bonding time while navigating through challenging holes and obstacles. It's a fantastic way to relax, laugh, and create unforgettable moments together. The best part? Dad's play FREE on Father's Day!
Thrilling Laser Tag:
Ignite dad's inner action hero with an exhilarating game of laser tag. Our cutting-edge laser tag arena provides the perfect setting for thrilling battles and friendly competition. Suit up, strategize, and let the adrenaline rush take over as you navigate through the darkened subway and sewer tunnels, aiming for victory. Dad will feel like a true champion as he dodges lasers and outwits opponents. Laser tag at the Family Fun Center is a Father's Day experience that will have the entire family gunning for Dad, literally!
Delectable Dining:
After all the excitement, treat dad to a victory meal at Cap's Pizza Cafe. Whether he craves a classic pepperoni pizza or wants to try some boneless wings, our menu has a variety of snack options to satisfy every craving. Hash out your conquest stories, laugh together, and create a tasty and sweet dining experience to top off the Father's Day celebration.
Gift of Fun:
Make Father's Day last beyond the actual day by surprising Dad with a gift card to the Family Fun Center. This way, he can choose when to come back and enjoy more thrilling adventures with the family. It's a gift that offers endless possibilities for future fun and cherished memories.
This Father's Day let's celebrate the dads of Lakeland in a way that truly stands out. The Family Fun Center offers a one-stop destination for unforgettable experiences, laughter, and quality time together. From heart-pounding adventure in our Urban Attack Laser Tag arena to friendly competition in our arcade, we have something for every dad's taste. Enjoy a round of mini golf, indulge in delicious dining, and create memories that will be cherished for years to come.
At the Family Fun Center, we believe in celebrating the joy of family and creating moments that matter. Join us this Father's Day as we honor the amazing dads of Lakeland and make their day extra special. Let's show our appreciation and make Father's Day a truly unforgettable experience for all. Happy Father's Day from the Family Fun Center!