Alright Lakeland, we're just two weeks out from Halloween which means it's time to eat, drink and be SCARY! Let's get those costumes ready and plan out the weekend! Whether you're just here for the boo's, the frightful fun or the sweet treats, there's no shortage of Halloween activities to partake in around town – indoors or out. So, let's make the most of the cooler weather and the spooky spirit. Here's our guide to the ultimate Halloween weekend.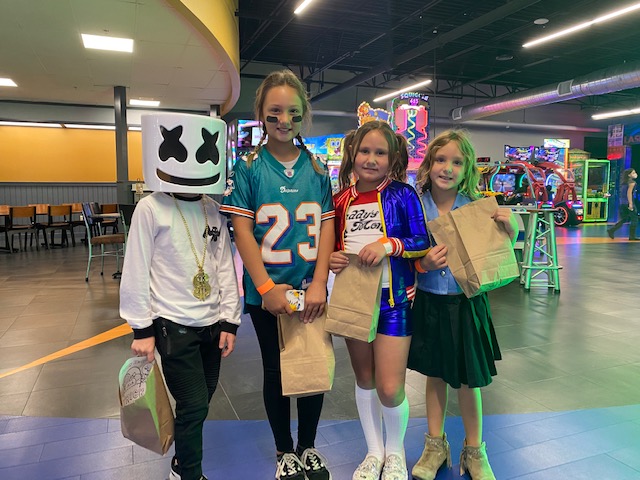 Halloween around town:
This season offers so many great events and festivities around town, it can be hard to fit it all in! If you're looking to plan a family-friendly weekend, there's still time to make it out to the Harvest Holler Corn Maze. Located just outside of town, this real working farm has plenty of holiday fun to offer. Spend the day testing your navigation skills as you follow clues through the twist and turns of the maze, followed by barrel and hayrides, and a walk in the pumpkin patch. Looking for something a little scarier? Check out the Sun 'n Fun Haunted Campgrounds Halloween weekend. Complete with haunted trails and camper-treating. Or try something indoors, like the historic Wonder House. They have day AND nighttime Halloween tours packed with ghost stories, sweet treats, and a strange collection of personal oddities.
Halloween at home:
Are you making costumes of buying? Get spooky right at home with some eerie music and start planning out your family's costumes and get a game plan together for Trick-or-Treating Halloween night. You can get cozy in the backyard with a bonfire and a s'mores board (think charcuterie board but with sweets) with different fixings, toppings, and flavors for a great Halloween-themed family night in. Add some scary movies in the mix, bake a pumpkin or apple pie, crave pumpkins, or get some yard work done! Raking fallen leaves into a giant pile just to JUMP into it is a memory your kids will remember for years to come.
Halloween at the Family Fun Center:
Grab your broomsticks and creep it real at the Family Fun Center for Halloween weekend. Looking for a heart thumping thrill? Jump, crawl, duck and dive your way through lasers in our Vault Assault Maze. Or you can run, but you can't hide as you navigate subways and sewer tunnels with up to 20 of your friends and family in our Urban Attack Laser Tag Arena. We also offer mini golf, a plethora of arcade games, and a play area for the littles! It's the perfect place to create unforgettable moments with the whole family. So come as you aren't and enjoy family-fun frights for all ages!
We're kicking off the weekend with the ULTIMATE Family-Fun Halloween Party! We have a special Halloween package complete with Trick-or-Treating around the park, access to Mini Golf and our Funtasia playground, coloring activities and so much more! The festivities start Saturday, October 29 at 11 AM. Let's get this party startled, make some eerie-sistible memories, and boooogie down at the Family Fun Center this Halloween weekend.
We hope you all have a spooktacular Fall season, and don't forget to check out our website for more details on upcoming events and specials to help you plan your Halloween activities at the Family Fun Center.