Have you noticed our hours changing? There's a good reason for that. We've been invaded by the scourges of the high seas! And they've anchored two pirate ships right in the middle of our facility. But don't worry, the pirates of Lakeland go plundering on the weekends, so you can sneak a peek at their pirate ship while they're off raiding coastal towns and island villages. In the meantime, get excited about the awesome renovations coming to Family Fun Center of Lakeland just in time for summer.
A Change in the Wind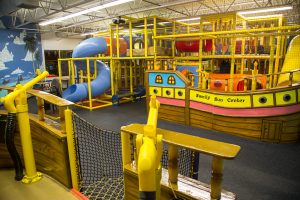 Are your kids adventurers, ready to go where the wind blows them? We have a fresh opportunity for fun on the horizon! Our play area has two brand new pirate ships to explore. But with all that rigging to clamber around, slides to slip down, and ball cannons for battles on the waves, these ships are sure to be battered by the high seas soon enough. And the sea scene painted behind the pirate ship playground is so lifelike, your kids will practically feel a breeze rolling in from the sea!
More Adventures to Come
Our family fun center renovations are well underway, and we're not stopping with pirate ships. Our adventures are getting bigger, better, and bolder this summer! Sneak a peek of the action during the weekends—we open at 4pm on Fridays for weekend fun—or wait and be surprised by the transformation! We anticipate reopening for normal hours around May 16th, but you know how construction goes. Keep an eye on our Facebook page for updates on our hours.
We can't wait to unveil the fresh adventures at Family Fun Center of Lakeland!