The Family Fun Center is a place where there's plenty of fun to be had and everyone is welcome. Our team at the Fun Center in Lakeland is holding Sensational Sundays once a month February – May, August, September, October and December for families with sensory-sensitive children. For many of these children, enjoying certain experiences can be challenging especially when surrounded by bright lights, loud sounds and big crowds. During Sensational Sundays, Family Fun Center will make special accommodations so that all can enjoy the fun. Read on to learn more about what to expect.
Each Sensational Sunday, Family Fun Center will open at 10:30am specifically for sensory-sensitive children. This allows guests to enjoy the Funtasia play area, arcade and other family activities before the crowds arrive. During this time, the Fun Center will turn down the lights and music and our trained staff will be standing by for any needed assistance.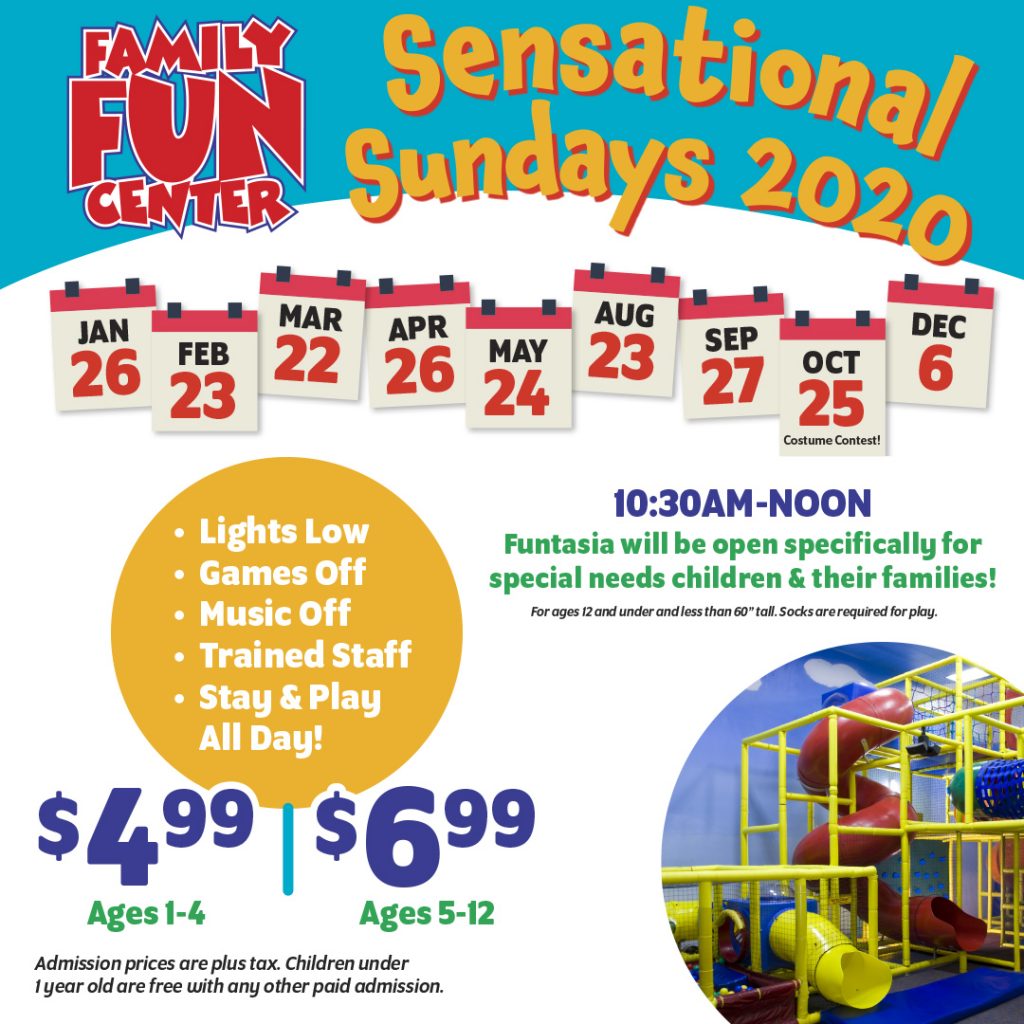 Sensational Sunday participants will have the opportunity to use their Fun Cards to play games by themselves or with a friend. The more games you play, the more e-tickets you collect on your Fun Card. Cash in your e-tickets at the Fun Center redemption counter to pick out and take home your very own prize! Also open during Sensational Sunday is the Funtasia play area where guests can climb, crawl through tunnels, splash in the ball pit and navigate obstacle courses.
At noon, the Family Fun Center will be open to the general public and at that time you can stay and play, head on out, play games, or grab some lunch at Cappy's Pizza Café. Although Sensational Sunday concludes at noon, all-day play is included in your admission if you wish to stay or even come back later in the day.
We do our best to make the experience fun for all kids, but we ask that before your visit you understand your child's limits and make a plan to enjoy the activities best suited for them. You can view all the Sensational Sunday dates, read our tips for sensory-friendly play and learn more about what to expect during your visit here: https://thefamilyfuncenter.com/sensational-sundays/. If you have ideas to make Sensational Sundays even better, we want to hear from you! Fill out the contact form on our website with any and all suggestions.