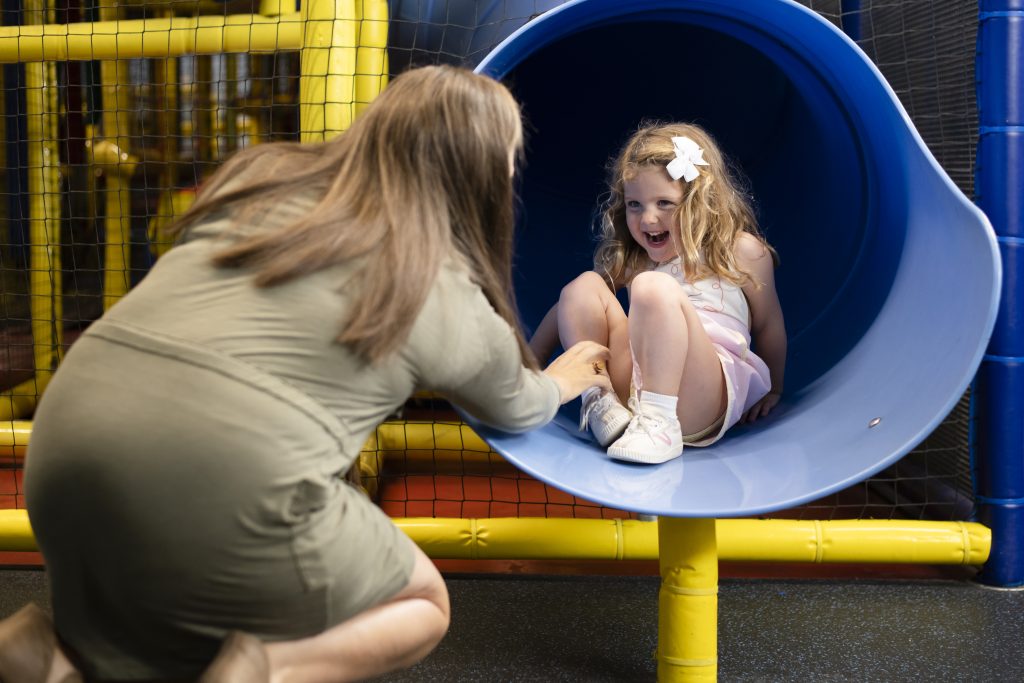 The long-awaited Springtime is finally here and in full bloom! It is the perfect time of year to spend time with your kids, friends and family, but after the break, you've run out of activity ideas for the kiddos that don't involve video games or TV. Playing and running around outside is always fun and a great way for the little ones to get all of their energy out, but what about on the days where the weather is not in your favor and you still want your kids to get some exercise?
You no longer have to think about "what are fun kids activities near me" to keep them entertained and in shape. The Family Fun Center of Lakeland is the perfect location for some family bonding, friendly competition and physical activity!
Why is Exercise Important for Kids?
Keeping your kids active and in shape is important not only for their physical and mental health now, but for the positive long-term effects too. According to the Centers for Disease Control and Prevention (CDC), "Regular physical activity can help children and adolescents improve cardiorespiratory fitness, build strong bones and muscles, control weight, reduce symptoms of anxiety and depression, and reduce the risk of developing health conditions such as, Heart disease, Cancer, Type 2 diabetes, High blood pressure, Osteoporosis and Obesity."
How Much Exercise Do Kids Need?
The amount of physical activity kids need each day to stay healthy and active depends on their age. The CDC recommends children 3 to 5 years old be physically active throughout the day to promote growth and development. This can be playing on the playground, riding a bike, or even just running around in the backyard as they play.
For children and adolescents ages 6 to 17, about 60 minutes or more of moderate-to-vigorous intensity of physical activity is recommended. What exactly does moderate-to-vigorous intensity entail? Aerobic activities such as walking or running, muscle strengthening activities such as kids rock climbing or yoga, and bone strengthening exercises like jumping and running.
An hour a day of physical activity may seem like a daunting task, but parts of a kid's everyday routine could be counting towards that hour without even realizing it. School-based physical activity such as walking to classes or playing games in P.E. seem like just a part of their everyday lives, but are actually contributing to that daily exercise goal.
How Does Family Fun Center Contribute to Exercise?
The Family Fun Center has been Lakelands' main family entertainment center for over four decades, and is known for its wide variety of attractions and fun birthday parties. You may be thinking, how is an entertainment center a form of exercise for my kids?
Family Fun Center has a multitude of fun attractions that actually can contribute to physical activity such as adventure mini golf, laser tag, Funtasia indoor playground, laser maze and even some of our arcade games. Here's how…
Adventure Mini Golf
The 18-hole mini golf course can challenge even the most avid golfer. Bonding time with the family may be lacking with school starting back up after the break, and what better way to bond than laughing with the family in a game of mini golf. Not only is mini golf a great excuse to get the family all together for some friendly competition, but it is actually great for cardiovascular exercise! Swinging the club, chasing the balls, and maneuvering the uneven terrain is a great way to get that daily cardio in! Not to mention the hand-eye coordination and motor skills kids will gain from angling their shot, deciding how hard to hit the ball and how to avoid obstacles in the way. Every hole is designed uniquely, with different turns, terrain and hills, so you'll have to get extra creative to try to get that hole-in-one.
Laser Tag and Laser Maze
Quick! The city is under attack! Compete one-on-one or with the whole family on a team in Family Fun Center's 2,200 square feet laser tag arena! Just one game of laser tag will get your heart racing as you dodge and run from lasers to protect the city! I really can't think of a more fun way to get your cardio in, and work on those agility skills.
If you really want to work on dodging some lasers, the Vault Assault Laser Maze challenge is the perfect thrill for you and your kids! Work on balance and agility as you crawl and jump your way around the lasers to beat the mission. Theres also another twist, you have to do it as quickly as possible and avoid all lasers! This is the perfect high intensity and controlled workout for kids, and the whole family can even compete against each other to see who gets the best score in the shortest amount of time!
The Vault Assault Beam Buster is the exact opposite, break as many lasers as possible in the allotted time! The family can show off all of their karate skills by running and kicking through all of the lasers to break them. The kids will be so busy breaking lasers, they won't even realize all of the running and moving involved in this laser maze game!
Funtasia Indoor Playground
Looking to get to get all the little one's energy out? The Funtasia indoor playground is a 4-story maze of tunnels, tubes, obstacles and slides that are sure to keep the munchkins busy for hours! All of the climbing, crawling and sliding is the most fun full-body workout your kids will ever have!
Arcade
Jump, steer and shoot hoops all at the Family Fun Center arcade! Our arcade is jam packed with a wide range of games and over 100 options to choose from! You can stick to the classics everyone knows and loves such as, Skee-Ball, Air Hockey and Ms. Pac-Man, or you can try something new such as the Axe Master, Jumbo Jumpin and Connect 4 Hoops. No matter what mood you're in, we have the game for you! This family bonding trip will keep everyone entertained and active as they throw, jump and react quickly all day long!
Keeping your kids active while they're young is crucial to their growth, development, physical and mental health now, and in the future. The Family Fun Center is not only an active and fun experience, but also an opportunity to laugh, play and be silly with the whole family, which always makes it a day to remember. Plan your visit to make memories at Family Fun Center today!