"It's the most wonderful time of the year." We all know this saying to be true of our favorite holiday, Christmas. Coming only once a year, the holiday season is a wonderful opportunity to give to those you love and those in need. Here at The Family Fun Center, we're hosting a very special Christmas in July Toy Drive to celebrate our amazing community and give back to a local charity. Read on to learn how you can have some fun and help others at the same time!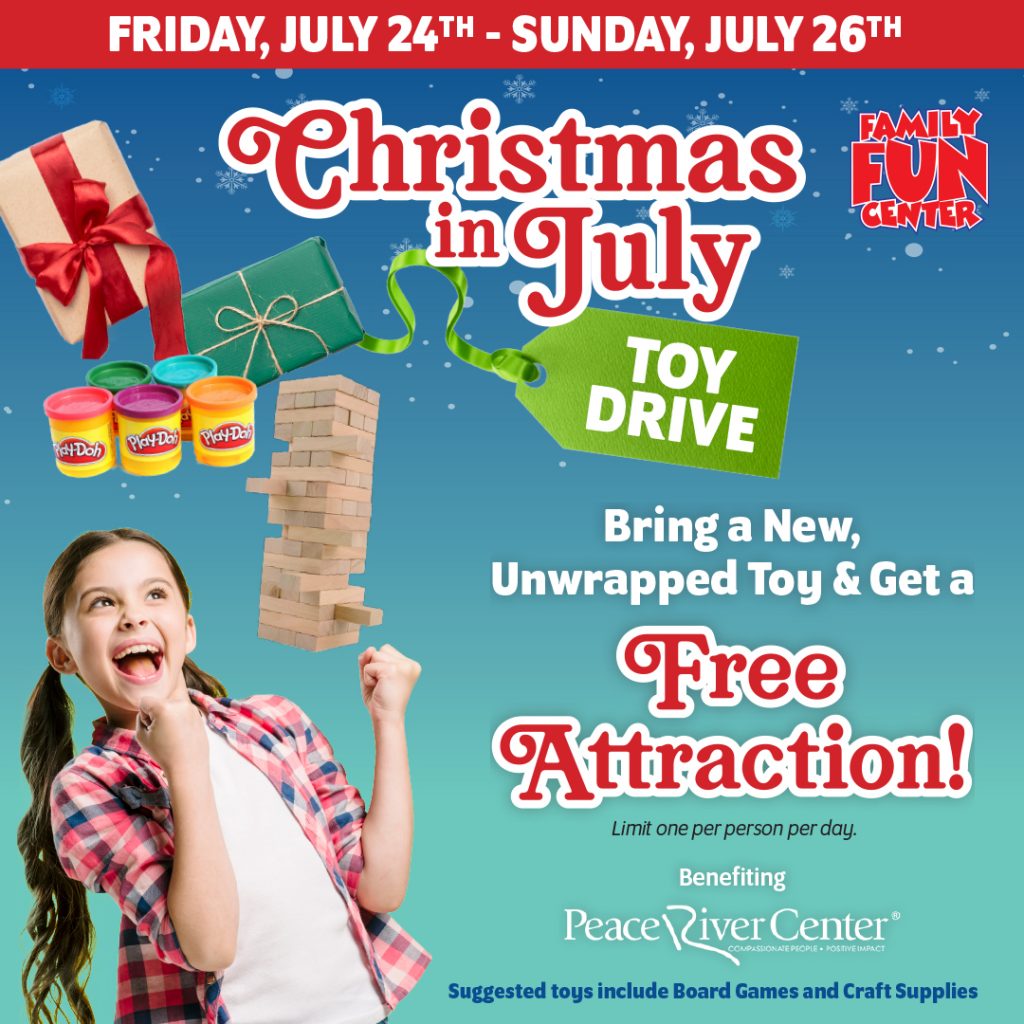 From Friday, July 24th through Sunday, July 26th, Family Fun Center is celebrating Christmas in July with a toy drive benefitting Peace River Center here in Lakeland. When you bring in a new, unwrapped toy, you'll receive a FREE attraction! The toys will be donated to the center's Resiliency Team which works with children birth to 17 years old who have been diagnosed with a mental health disability.
The clients of the Resiliency Team vary in age and each have specific needs and require different techniques and "tools" during their sessions. The Peace River Center is looking for specific donations in the form of games and craft supplies that will benefit a variety of clients. A few examples of requested donations are games like Uno Cards, Jenga, Sorry, Monopoly and Connect Four and craft supplies like glitter glue, construction paper, play dough and pipe cleaners.
The games are often given as a reward for positive behavior and meeting behavior goals. The craft supplies are often used to build sensory toys for children and adolescents that experience anxiety. The Peace River Center's Resiliency Team provides in-home visits and treatment centered on improving mental health and family dynamics. We're excited to give families a chance to support a local organization and enjoy a day of fun! Visit https://thefamilyfuncenter.com/christmas-in-july/ to learn more about The Peace River Center and get details about our Christmas in July Toy Drive.